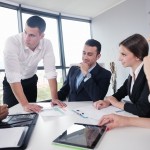 Over the years, large companies have enjoyed all the benefits they reap from having their own captive insurance companies. Generally these are used when insurance was not available, or was unreasonably priced. Depending on the nature of the company, sometimes other companies are not willing to insure you due to risks you might be taking. But not only are there risk management benefits, but there are also tax advantages.

In more recent years, smaller companies have come to learn they can benefit from captive insurance companies, as well. Here are some of the benefits that a well managed captive insurance company can provide:
The parent company receives a tax deduction for the insurance premium paid to the captive
Other tax saving opportunities, including gift and estate tax savings for shareholders and income tax savings for the parent and the captive
The opportunity to accumulate wealth from a tax-favored vehicle
Favorable income tax rates for the distributions to captive owners
Asset protection from claims of business and any personal creditors
Lowered insurance premiums presently paid by the company
Accessibility to the lower-cost reinsurance market
Insuring risks that would otherwise be uninsurable

Before you get too excited about being covered, keep in mind that some companies forget that captives need to run as a true insurance company. It is best to have a capable captive management company on your side in order to make sure that everything goes smoothly. If you are in need of a Captive Insurance Company, contact First Anguilla Trust and we can help all of your insurance needs.